In a nutshell: get around smart on Maui's northshore.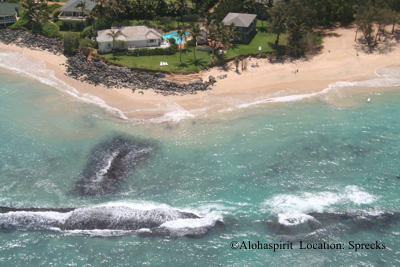 There are quite a lot of travel guides out there, covering the all beauty of the hawai'ian island.

Our goal is to provide you the most important informations on how to get around smart from a surfers standpoint - without wasting money on tourist traps. AlohaSpirit Inc. is not affiliated with any of the mentioned businesses, nor do we provide any kind of booking or reservation services.

Surfconditions: Waves | Wind

Planning: Arrival | Car | Accomodation | Gear | Groceries | Dine Out



Windsurfing / Kitesurfing: Over the year, you see waves alternating with the wind. Strong winds prevail in the summer, while waves dominate conditions in the winterseason. Said this, the your best bet to catch both waves and wind is nov/dec and feb/apr . Within these months, chances are good to get those epic conditions maui is known for. Check out our spotguide for pictures and more info here.





Wintertime is the season for waves.






Waves on Hawai'i are measured in ft from the backside of the wave. Faces are more than twice as high. So 4ft swell in Ho'okipa typically generates logohigh faces with occasional masthigh sets.

For those of you beeing unfamiliar with hawai'ian wave conditions, remember: On a typical northswell day, every 10 - 20 minutes or so, much bigger sets are rolling in, sometimes twice the size. So always put this in consideration when you decide where, or if you are going out at all.

Winter:
Starting mid-november 'til end of march, the swells - generated way up north in the arctic circle - hit the hawai'ian island chain. Travelling for thousand of miles without any disturbance, they create those epic surf conditions. During the season you are looking regulary at 6-10ft ( not hawai'ian ) faces. Of course this largely depends on the spot of your choice either. You can expect 15 days or so with nice 15ft faces and 2 or 3 days with epic bombs all the way up to 75ft on the outer brakes.
Summer:
Occasional swell from the south, generating excellent conditions at the south shore around 6-12ft ( not hawai'ian ) faces.


High tradewinds prevail during summertime.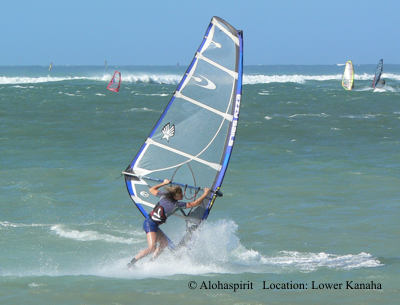 Maui, with its two mountains acting like a funnel, is usually getting around 10kts more wind than the other islands. Knowing this local phenomenon, you have to interpret those general forecasts and sensorreadings you find on the internet a little different.

Summer:
April - November, 25kts or more from NNE, otherweise its south winds ( Kona Winds ). Probability of sailable wind: 85%
Winter:
mostly NNE ( Trades ) 15-25kts, 15 days south winds ( Kona Wind ) Probability of sailable wind: 60%





Arrival, Kahului Airport( IATA Code : OGG ).







Maui and all other hawai'ian islands are serviced by a variety of airlines from the US mainland, Australia, Tahiti and Japan. Affordable direct service to Maui is availible with

- United Airlines ( from San Francisco and Los Angeles )
- American Airlines ( from Washington, Los Angeles )
- Delta ( from Los Angeles )
- Hawaiian ( from Orange County, Portland )

Roundtrip prices vary between US$ 350 to US$ 1000 ( coach ).

One surfboard bag up to 8.5 ft ( 260cm ) and 50lbs goes for US$ 100, Windsurf and Kitegear US$ 200. Prices for international flights double.

MOST IMPORTANT: By any chance, if you have surfbags etc, check in 6 hours prior departure. Otherwise, you may look at a very busy ground crew, and things are getting REALLY expensive if size and weight are not right on - e.g. if your bag is one inch to large, prices easily double, or quadruple if also just a few pounds too heavy !





Rental car: no way to get around without it.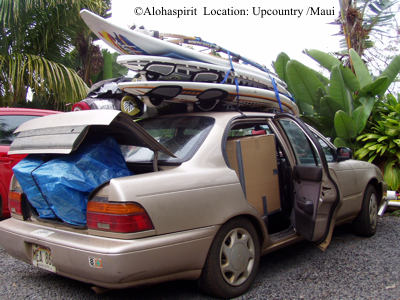 Without a rental car, you don't even get away from the airport.

There are three very important rules when you hit the roads here on hawai'i:

1. Drive SLOWLY
2. Drive SLOWLY
3. Drive SLOWLY


Always remember: Respect is most important on Hawai'i .
Only a few people carry health insurance, roads are often in bad shape and so are the cars.

If you drive fast, you WILL get into trouble, both with the people and you car.

Also, sharing the road will most likely be your first contact with the local community, so again, alwayz remembah: Drive slow, respect the people and you will be rewarded with the real aloha spirit!.

Prices / Insurance:
All prices exclude insurance, just like everywhere on the US mainland. If you are from some other country, you can bring your own insurance, some creditcards even cover that if you pay the rental car with that card. If you only need a regular car, the best idea might be to book the car online from your country, as insurance etc. might already be included.

Special Northore Cruisers:
In case you need a Van to haul your gear around or to sleep in, your best bet is probably one of the local used rental car companies. They also offer booking online.

If you are not from the US, again, there is no insurance included. Since you cannot book these guys thru your local travel agent in your country, you either have your own insurance ( e.g. creditcard insurance program ) or you need to purchase it at the rental car company. Which pretty much doubles the price, so we encourage everybody to look out for a cheap creditcard that covers rental car insurance.

You need to be at least 25 years old to rent a car. This limitation might be waived for an additional fee. Check this out in advance to avoid unneccesary overcharges.

Local Rental Car Companies for used Cars & Vans:
Word of Mouth: older cars, no vans, starting at US$ 20 / day
MauiVans: Vans and newer cars starting at US$ 20 / day

To place a reservation, you need a creditcard. For those who are not from the US: thats perfectly normal.

Long Term Rental / Purchase:
Easy to get locally, impossible from abroad.

Your best bet is to get a regular rental car for the first week to get things organised. In case no good deal comes along, you can always extend your rental car.
If you're staying more than a month, you can shop our local rental car companies. You have to walk in and need a local address and a US or international drivers licence. You find these guys in this weekly publication, e.g. the Bulletin. If you are somewhat handy and don't mind the little risk, you may want to consider purchasing a car. Starts around $500 for some small car or $1000 for a van respectively. Checkout the Bulletin. After purchase you need to walk in the Department of Motorvehicles to register the car in your name. Make shure the previous owner gives you all this paperwork: Title ( proof of ownership ), Registration ( Taxes are paid ) and Safety ( biannual road saftey check ). Don't forget to bring your drivers licence or passport and $10 in cash. Even though if only temporary, your vacation address on maui is ok for the car to be registered at.

Attention: You MUST purchase insurance to comply with hawai'ian law. Fines are heavy if you don't, plus its a matter of respect to cover the people surrounding you in traffic.





Accomodation: mandatory prior entering the US if you are not a US citizen. Otherwise up to you.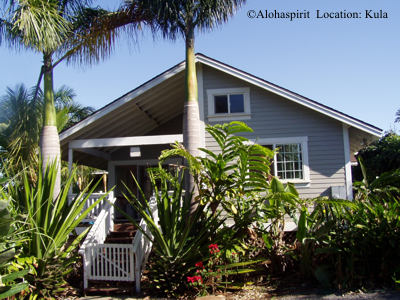 Generally speaking, accomodation on Hawai'i is expensive, if not very expensive. In order to save some bucks you need to search the internet for private room rentals. Keep in mind that the northshore is at least a 30 minute drive from the southshore and fuel also is expensive. Therefore, you need a place on the northshore. Look for these areas in that very order: Paia, Kuau, Sprecks, Haiku, Makawao, Kula.

Hotels: starting $ 300/day, average $450
Motels: only one or two on the island, starting US$ 120 / day, average $200
Private rooms: starting US$ 45 ( 2 adults ) / day , average $100
Houses: starting US$ 120 ( 2 adults ) / day, average $180

Remember: Condition and location of rooms might be sometimes far from expected, depending what you are used to. Specially hostels are known to brag quite a bit, while private rooms are in general ok.

We can refer some friends on the northshore so don't hesitate to: contact us. In order to forward your request, your day of arrival and departure MUST be included in your mail.

Camping is quite possible on Maui, but a special permit is required. It's darn cheap, but we recommend a room at least for the first week to settle in. Remember: if you are not a U.S. citizen, you need a valid reservation anyway to enter the U.S.

Having a place to stay for the first days also saves in the long run: you can cook yourself ( eating out is expensive ), learn how to get around and search for bargains. After a week, you can decide to go camping or get a place to stay for the rest of your trip.


You will also find used gear posted at the beach, on cars and our famous locally owned classified Maui Bulletin.


Folks please listen up: even though your travel agent told you a thousand times it cost only US $50 to get your gear back home, or you have a voucher yadayadayada .....:

At the Check-in, all this is worthless. The very person at the airline counter determines your extra charge, we have personally seen people paying over $700 for one windsurfing gear. If you are not willing to cash out real money, don't bring your gear.



Renting:
Brand new gear is availible for around US$ 250 per week. One week means: going out 7 days . If you don't go out for whatever reason, you're not beeing charged. Plus you can always have the perfect setup for every condition.

These kine shops are right at the northshore :

Hawaiian Island: Starboard, JP, Naish, Ezzy, Neil Pryde )
Maui Windsurf Company :Goya, F2, North
Neil Pryde Maui: JP, Neil Pryde
HighTech: RRD, Quatro, F2


Buy:
If you're planning an extended stay of more than 4 weeks, it's cheaper to buy gear. You can either take it home ( keep the airline charges mind ), sell it, or keep it somewhere in storage ( because you are coming back anyway ... ). Used gear, about a year old, goes for around 30% of the retail price. Some people go the smart way, and buy only the big stuff here, like sails, booms, masts, boards. Not a bad idea, so bring the small things, like harness, lines and bases etc.

TIP: Many pro's are selling their used gear. So don't hesitate to ask if you see a known face at the beach !


Together with room expenses and your car, it will be a major factor in your budget. So it's important to shop smart if you want to save big from the first day on.Typical examples: frozen pizza: $9, apple juice 1/2 gallon $8, milk 1/2 gallon $6.

Try out these shops and always compare !

Safeway | 170 E.Kamehameha Avenue, Kahului - map
typical U.S. supermarket. Great bread, don't forget to apply for membership ( takes only a minute and it's free ) before first purchase.

Cash & Carry / Kahului Harbor | 100 Amala Place, Kahului - map
long established, local market. Local produce, very reasonable prices on veggies and polynesian things.

Costco | 425 Dairy Road, Kahului - map
wholesale market, membership required. Annual fee around $45. Big savings on meat, fish and other food items. Large packages. Must have for families and surfcrews.

Pukalani Superette | 15 Makawao Avenue, Pukalani - map
Local market in Pukalani with amazingly reasonable prices on pretty much all food items.

In the bigger markets & chains: Always check your reciept after purchase. Make shure all discounts are accounted for.





Dining out, without melting your creditcard ....



... is rather complicated on Hawai'i. More than $20 for a pizza, $35 for a steak - and thats still considered cheap here. However, if you are unable to cook yourself after a long day out in the water, we have these mouthwatering, yet inexpensive northshore jewels for you:

Da Kitchen - starting $ 8 | 425 Koloa St #104 ,Kahului - map
one of the very few authentic hawai'ian restaurant, just 5 minutes from Kanaha. Great people, great food, huge plates and extremely reasonable priced.

Saeng's Thai Cuisine - starting $ 10 | 2119 W Vineyard Street, Wailuku - map
well known thai cuisine, 15 minutes from kanaha / waiehu. Cosy place, great food, simply a must.

Saigon Cafe, Vietnamese - starting $ 8 | 1792 Main Street, Wailuku - map
excellent, authentic food, very reasonable and superfresh. Actually it's the favourite of the AlohaSpirit Inc. crew. It's a more busy, noisy place, but that makes it so alive.

Go out with da girlz:

Up to something more fancy, but still reasonable ? This is where you might also get a glimpse on the watersports Pro scene of maui.

Jaques - long established and hip | 120 Hana Highway, Paia - map
Restaurant/Bar, right on the front street. Very reasonable priced French / Japanese Fusion. Nice bamboo style place, surrounded by tiki torches. Hangout for waterman, pro surfers and northshore locals.

Hana Hou Cafe - hawaiian restaurant | 810 Haiku Road, Haiku - map
A real Northshore secret, we have rarely seen any tourists around. Traditional hawai'ian kitchen ( starting at $ 15 ) Just around the corner from Ho'okipa and Jaws.

Polli's - mexican Food | 1202 Makawao Avenue, Makawao - map
THE very mexican restaurant. Upcountry in Makawao, but it's just a 15 minute drive from Ho'okipa. Superlarge plates and Videoscreens, showing BigWave Videos. The larger the swell that day was, the greater your chances to see waterman celebs around.

Maui offers much more than this, but we leave the pleasure of exploring all it's beauty and vibes yourself. No matter what you are looking for: Parties, rain forest, volcanoes, endless beaches or the ultimate thrill on the water - Maui has it all. So guys, have a great time on our island, and take the Alohasprit back home and spread it around your friends and family.

Maui no ka 'oi
Yours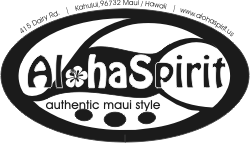 Team